The seasonality of the Charlotte real estate market typically turns the corner in mid summer, and we usually see prices start to begin a slow descent into the fall and winter months. Not so this year! The average sales price for single family homes in Mecklenburg County just hit a new record high in August at $424,999. The median price remains the same as last month at $330,000. This price push, bucking the usual trend, is explainable because sales halted in the spring due to the uncertainty of the pandemic. However, as things stabilized a bit, and people realized they would be staying home more, a housing boom was fueled. Sales prices and the number of sales remain strong, although I would expect to see them begin the season dip soon, albeit a little later than normal.
About a week ago we posted an interesting historical chart on Facebook showing how the average price has risen since before the Great Recession through today. Thanks to all who commented!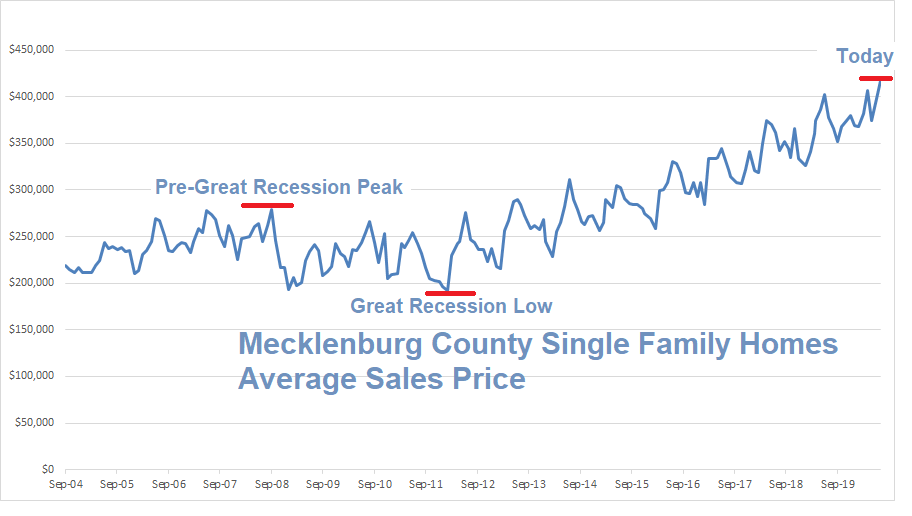 I was excited to hear the mixed remarks about what this data shows. Most interesting to me though, was a comment about how real estate is becoming much less affordable because of the rising prices. However, the truth of that situation is that affordability has not changed much in twelve years because as prices have gone up, interest rates have continued to fall. They currently hover around 3% for a 30 year fixed loan.
In the 17 years I've been in the business, I've never seen a market that is good for BOTH buyers AND sellers. Yet that is what we are experiencing today. Sellers are able to command strong prices, but buyers have great purchasing power because of the low rates. I understand that wages have not risen to the same degree that prices have, but the interest rates have leveled the playing field. Personally, I believe now is a great time to buy purely for purposes of locking in capital at these super low rates.
This week we'll publish our monthly E-Newsletter showing all the market stats for Charlotte single family home sales comparing August to the previous month and the same month last year. Here's a sneak peak:
Home sales are down 9% from last month, but up 2% from last year.
Average sales price is up 2% from last month and 16% from last year.
Median sales price is unchanged from last month, but up 14% from last year.
Average price per square foot is up 1% from last month and 5% from last year.
Average time on market down 9% from last month and 25% from last year.
Pending home sales are down 2% from last month, but up 23% from last year.
Supply is down 4% from last month and 15% from last year.
Mortgage rates at 2.94% are down from 3.02% last month and 4.12% last year.
Average house payment is up 1% from last month and 7% from last year.